The Aspen Institute is coming to Fargo, North Dakota! 
The Aspen Institute is an educational and policy studies organization based in Washington, DC. Its mission is to foster leadership based on enduring values and to provide a nonpartisan venue for dealing with critical issues. The Institute has campuses in Aspen, Colorado, and on the Wye River on Maryland's Eastern Shore. It also maintains offices in New York City and has an international network of partners. 
It's signature event, the Aspen Ideas Festival, is the nation's premier, public gathering for leaders from around the globe and across many disciplines to engage in deep and inquisitive discussions about ideas and issues that shape our lives and challenge our times. The 16th Annual Festival held in June 2020 will convene 4,500 attendees and 600 speakers across ten days from a wide range of international sectors and industries to the Aspen Institute's Colorado campus. 
Inspired by this event, the Aspen Institute along with local partners are bringing the spirit of the Festival to Fargo through an event entitled "Fargo IDEAS: An Evening of Conversation." The event will be held on October 16 at 7:00 pm at the historic Fargo Theatre and will feature a collection of Aspen Institute experts in conversation with local leaders on a variety of topics.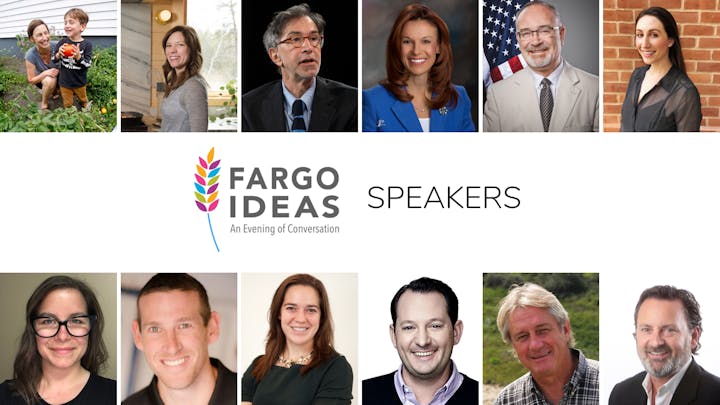 Featured speakers will include:
Andrea Baumgardner, Co-Founder, BernBaums
Kirsten Baesler, ND Superintendent of Public Instruction
Caroline Hopper, Citizenship and American Identity Program, The Aspen Institute
Rachel Johnson, Area Director, Special Olympics of North Dakota
Corby Kummer, Senior Editor, The Atlantic
Bill Marcil, Jr., CEO, Forum Communications
Edward O'Keefe, CEO, Theodore Roosevelt Presidential Library
Rolf Sletten, Board Member, Theodore Roosevelt Medora Foundation
Emily Stets, Sports and Society Program, The Aspen Institute
John Strand, Fargo City Commissioner
Amy Thielen, Former Host, Heartland Table
Ryan Williams, COO, TNT Kids Fitness & Gymnastics
Tickets are $35 and available at fargoideas.com. For those who require financial assistance to attend, scholarship and discounted ticket opportunities are available upon request at fargoideas@gmail.com. 
Fargo IDEAS: An Evening of Conversation is produced in collaboration with the Aspen Institute, Aspen Ideas Festival, Folkways, and Emerging Prairie. 
If You Go
Fargo Ideas: An Evening of Conversation
Wed Oct 16, 7:00 pm – 9:30 pm
The Fargo Theatre, 314 Broadway N, Fargo, ND 58102

Schedule
5:30 pm Opening Reception at the Loretta Building (210 Broadway N)
6:15 pm Doors Open at Fargo Theater (314 Broadway N)
7:00 pm Program Begins
9:30 pm Program Concludes
9:35 pm After Party at Toasted Frog (305 Broadway N)
Please direct all press/media, underwriting/partnerships, and ticketing questions to fargoideas@gmail.com. More information at www.fargoideas.com.